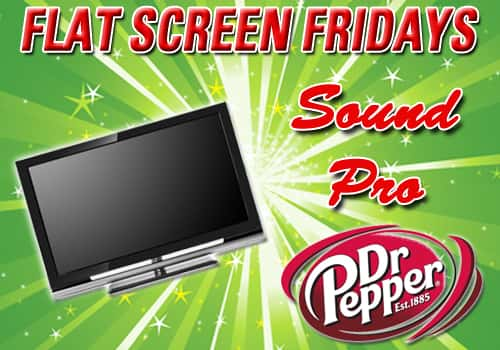 Flat Screen Fridays are back! Dr. Pepper, Sound Pro and 95.1 KSKY want to give you a brand new flat screen TV! (An LG-43LF5100 43″ LCD HDTV!)
Starting Monday, October 12th, listen for your chance to qualify 4 times a day every Monday-Friday. Every qualifer will receive some Dr. Pepper. Each weekly winner (wins the new flat screen TV)will be announced every Friday afternoon.
You may qualify once per week for the contest. If you do not win the TV after qualifying, you may qualify again in the following week(s). If you're selected to win a TV, you may not qualify for the contest again.
Guaranteed times to get qualified:
Mondays, Wednesdays & Fridays:
9-10am
12-1pm
2-3pm
4-5pm
Tuesdays & Thursdays:
11am-Noon
1-2pm
3-4pm
5-6pm