During the Patriots/Bills game yesterday, a fan in the stands threw a BIG FLOPPY DILDO on the field right next to a Patriots player who was being tackled.  They showed it on TV, and there's also a video from the stands where you see a ref kick it off the field.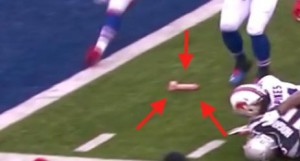 At first, the announcers didn't realize what it was, but on TV it was really obvious.  And after the game, Rob Gronkowski even commented on it in his post game press conference!
One thing's for sure…this needs to happen during every NFL game!