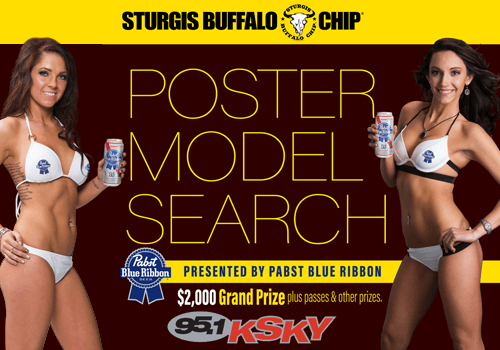 Another year and another chance to be the coveted Buffalo Chip Poster Model!
Every year, hundreds of thousands of bikers flood our streets, and YOU could be the beautiful face they see riding into town! Join 95.1 KSKY & Pabst Blue Ribbon as we host the largest talent search in the Black Hills–the Buffalo Chip Poster Model Search! We're looking for the next lovely lady to be on billboards across the area for the Sturgis Buffalo Chip! Not to mention, every lady that participates gets a FREE pass to the concert of their choice at the Chip!
Here's how you do it:
Come to one of the many local bars hosting a Poster Model event. After you sign up, you'll come on stage (in your street clothes) with one of the KSKY DJ's and answer a couple questions about yourself. Do your best to leave an impression on the crowd, and more importantly, the judges! At each event, the judges select a handful of ladies to move on to the Semi-Finals being held at The Back Porch in Spearfish on April 21st. Then we move to the Finals at the Robbinsdale in Rapid City on April 29th, where one lucky lady will be crowned the 2017 Buffalo Chip Poster Model!
EVERY lady who enters and answers a couple of questions about themselves on stage gets a FREE pass to the concert of their choice to the Chip.
Each semi-finalist that competes on 4/21 in Spearfish will be awarded one (1) Early Bird (14-day) pass wristband, if and only if they compete in the Semi-Finals on the date and at venue set. This 14-day pass replaces the one-day pass previously earned. All contestants are eligible for one pass only.
The GRAND PRIZE: In addition to becoming the face of the Sturgis Buffalo Chip for 2017, the Poster Model winner will receive a $1,500, plus the winner will participate in a professional photo shoot for the Buffalo Chip shortly after the end of the promotion and will receive a modeling fee of $500.
Upcoming Poster Model events:
Saturday, March 11: Z-Bar in Spearfish, SD
Friday, March 24: Clock Tower Lounge in Rapid City, SD
Saturday, March 25: Knuckle Saloon in Sturgis, SD
Friday, March 31: Boston's in Rapid City, SD
Thursday, April 6: Paddy O'Neill's in Rapid City, SD
Friday, April 7: Cheers Lounge in Rapid City, SD
Saturday, April 8: Boot Hill in Gillette, WY
Thursday, April 13: American Legion in Rapid City, SD
Saturday, April 15: Outlaw in Belle Fourche, SD
Wednesday, April 19: J-Bar in Rapid City, SD (last chance to participate before the Semi-Finals)
Semi-Finals: Friday, April 21 at the Back Porch in Spearfish, SD
Finals: Saturday, April 29 at Robbinsdale Lounge in Rapid City, SD