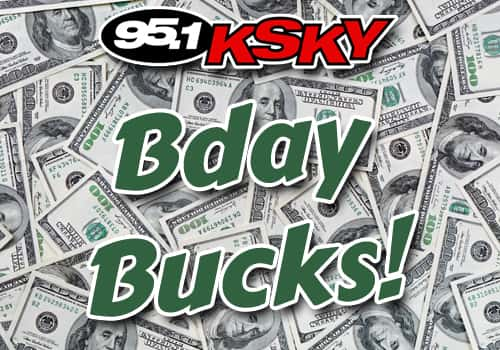 95.1 KSKY is celebrating its 35th birthday, and we want to stuff your bank account with a cool grand! What would you do with a thousand dollars? Fill a bathtub full of beer and take a soak? Finally put that big screen TV in the garage where the only person who decides what to watch is you? Whatever you decide to do with it, KSKY is going to hook you up with KSKY's Birthday Bucks! 1,000 dollars, five times a day. This is a nationwide, multi-station contest. One winner will be chosen five times a day. 
Listen weekdays for the cash keyword at 7am, 9am, 1pm, 3pm, & 5pm. When you hear the cash keyword, text it to 67760 for your chance to win $1,000! If you win, you'll receive a phone call letting you know! All winners will be contacted within 24 hours of each contest.
Click HERE for official rules.
Good luck from 95.1 KSKY!