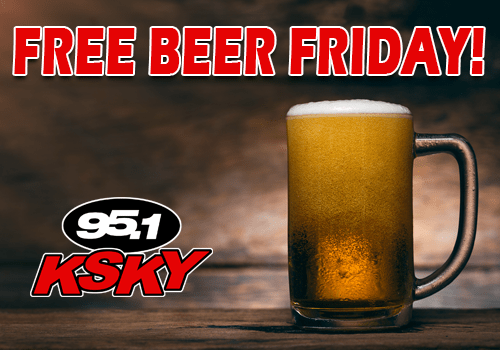 Fridays are great aren't they? What could make the start of the weekend better? Maybe downing a couple of cold ones…Or how about a couple of FREE cold ones?! At 95.1 KSKY, we've got you covered, so you can head into the weekend by tipping back some cold ones on us! Listen to the Black Hills Best Rock for your chance to get hooked with up some frosty cold ones from the The Knuckle Saloon in Sturgis or Dakota Point Brewing in Rapid City! On every Free Beer Friday, KSKY has your chance to win free beer ALL DAY: we'll give away a $15 gift certificate every hour from 8am-3:59pm.
Upcoming Free Beer Fridays:
February 15: The Knuckle Saloon
February 22: Dakota Point Brewing
March 15: The Knuckle Saloon
March 22: Dakota Point Brewing
April 12: The Knuckle Saloon
April 19: Dakota Point Brewing
More dates coming soon!