For the second year, we're doing a season-long NFL bet! Every week, each of us randomly draws three teams out of a bag. For each win, we get one point. In the case of a tie, we get a half point. If we draw two teams that are playing each other, they cancel out and we get one point.
At the end of the season, the show member with the most points wins! The show member with the least points has to do four stunts throughout the year. The second to last has to do three stunts, then two stunts and so on.
Here are our randomly-drawn picks for Week 6!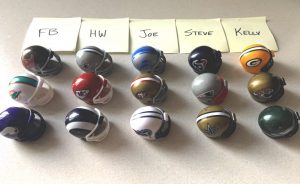 Season Totals: