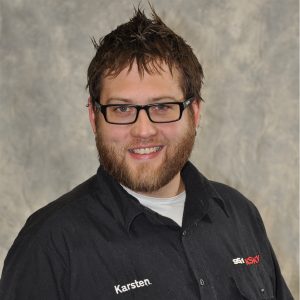 Karsten is originally from Des Moines, Iowa. Yeah, I know what you're thinking. But, believe it or not, it's a much more hip and happening place than you probably imagine! Hey, everybody has to come from SOMEPLACE, right?! Like most 80s kids, his relationship with a boombox began at an early age, refusing to fall asleep without the radio playing through the darkness.
Radio is literally in his blood, with his father and uncle starting one of the first FM stations in central Iowa. Dad ended up in the advertising business, but eventually passed the radio torch on to Karsten.
His "North American Radio Tour" (as he refers to his career) began back in 1997, hosting a weekly alternative rock show on KWDM at Valley High School in West Des Moines. He was awful!
His first REAL radio gig was during college at a group of commercial stations in Lawrence, Kansas, not only playing kick-ass rock, but also spinning all the soccer moms' favorite hits, and producing University of Kansas football and basketball broadcasts on the other stations. While working there, Karsten met and became friends with a dude named "Rambo," whom you just might have heard of here on KSKY!
Karsten has also worked in Des Moines at WHO-AM, KXNO, KKDM, KDRB, KDXA, and at KASI-AM and KCCQ in Ames.
He has a beautiful wife, Rachel, who patiently puts up with his loud mouth every day, and together they have mischievous identical twin daughters, plus four others who don't match each other, but are loved just the same!
In his free time he plays drums and guitar, Netflix & chills with the wife, and cruises through the Black Hills looking for fun and interesting things to do and delicious food to eat. If you know of any great barbecue joints, he'd love to hear about them. And try them. But only if YOU'RE paying!
Join him EVERY afternoon (yes, weekends, too!) for great music, plus all the debauchery, shenanigans and fart jokes you can handle. His wife wishes we were kidding! 🙂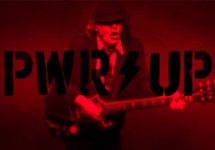 Yesterday, AC/DC shared that they're getting the band back together–literally. Brian Johnson, Cliff Williams, and Phil Rudd are all returning for the bands upcoming project. The album, PWR UP will be available on November 13th. Check out