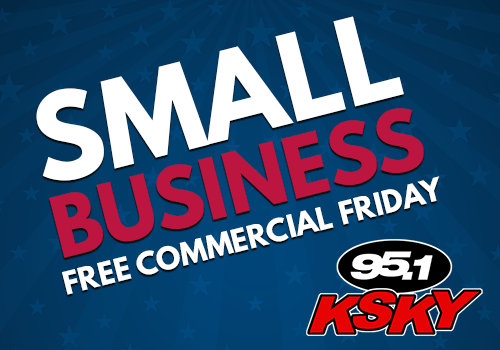 We live, work and play here, just like you! As a local business, 95.1 KSKY cares deeply about our community, small businesses, and most importantly: their employees.
Each Friday, Rambo will host Small Business, FREE Commercial Friday (9a-2p)! Even if you're not open now, suggest buying gift certificates for customers to visit once everyone is healthy! You'll have thirty seconds to talk about your business! Restaurants, bowling alleys, grocery stores…whatever! We'll give you 30 seconds to promote your business on Small Business Free Commercial Friday! Fill out the form below to enter your business to get a FREE commercial!
Before Rambo calls you for your free commercial, make sure you have your commercial ready.
Name of Business
Location/Address
Any specials you might have right now
Hours of Operation
Quick summary of what your business is about
*local businesses only / your information will not be shared with a third party
Check out all of the amazing local businesses that are keeping all of our communities thriving (and add your business to the list) by clicking HERE!