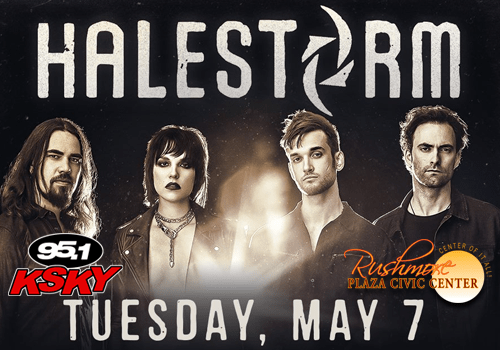 Halestorm is coming to the Rushmore Plaza Civic Center on Tuesday, May 7th, with special guests Palaye Royale and Beasto Blanco. Tickets are available at jadepresents.com. Tickets are $39.50 in advance and $44.50 day of the show.
Plus, KSKY has your chance to win FREE tickets to the show.
Guaranteed times to win:
Wed 4/24: 4-5pm
Thu 4/25: 11a-12p
Fri 4/26: 2-3pm
Mon 4/29: 3-4pm
Tue 4/30: 11a-12p
Wed 5/1: 2-3pm
Thu 5/2: 11a-12p
Fri 5/3: 4-5pm
Click the button below the videos to sign up for a bonus chance to win!
This contest is expired.